Succes verhalen
Nicole
"Thank you JapanCupid!"
I would like to express my gratitude to find my soul mate and husband Hidekazu at JapanCupid. We found each other from the US to Japan! We communicated everyday, Hidekazu came to visit me in the US 3 months later. We both realized that we are the perfect match.We got married 4 months ago! Domo arigatou.
Amanda
"Thank you JapanCupid!"
I couldn't be happier! He messaged me on Japancupid.com after only a few days of me signing up. After six months I decided to go to Japan to visit him and his family, it was the best month of my life. We hit it off instantly! We finish each others sentences and make one another laugh so much! We have been together for a year and are engaged with plans on having a wedding in September. I am so grateful for such a wonderful website! Ryota and I are so thankful for Japancupid! Thank you so much!
Edward
"Un grand merci à JapanCupid!"
Nous nous sommes rencontrés sur le site au mois d'Aout, au début nous étions tous les deux prudents et faisions connaissance au bout de quelques mois que nous discutions ensemble nous avons décidé d'être ensemble et je l'ai fait venir en France .Elle sans hésiter à pris l'avion depuis Haneda et elle est venue me rejoindre près de Marseille. Aujourd'hui nous vivons ensemble et elle à repris les études pour apprendre le français et pour commencer une fac de sport et rester vivre en France avec moi.
Un grand merci à votre site de nous avoir permis de nous rencontrer malgré la distance qu'il y a entre nos deux pays.
Junko et Edward
Iroak
"Thank you JapanCupid!"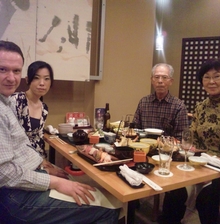 ステキな彼に会わせてくれて本当にありがとうございました。いい年こいて「こうでこうでこういう人で~」とわがままな理想を持っていたのですが、まさに私のわがままを全部かなえる理想の彼に巡り会えました。とても幸せです。 女性だと男性からのアプローチで始まる方が多いのではないかと思いますが、私達の場合、最初に私が彼にメッセージを送ったのがきっかけでした。どうせネットの中、振られたって恥かいたって構わないやと思って、思い切ってメッセージを送ったのですが、本当にあの時自分から行動を起こしてよかったな~と思います。 登録して待っているだけでは何も始まりません。女性からアプローチ、全然アリですよ。今本当に幸せです。
Serena
"I am so overjoyed to have found that person who makes everyday beautiful."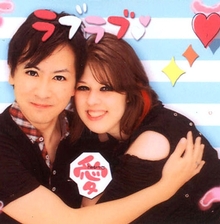 A month ago he mailed me in JapanCupid and we got to know each other. It was like a dream, we had everything in common: same hobbies, same interests, same goals. After 3 weeks of e-mailing he asked me out and came to see me from him home 3 hours away.
In person he was even better and we bonded instantaneously. I already can't imagine anyone else better suited to me. I'd been on dates with a few men from this site and others over the course of about 2 years. But I am so overjoyed to have found that person who makes everyday beautiful.
We're both very hopeful for our future together and very thankful to have found one another.
-Shu and Sen
Cupid Media, het Cupid Media Logo
en JapanCupid.com zijn handelsmerken van Cupid Media Pty Ltd.